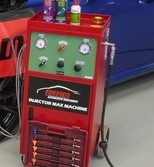 You may not have washed your car in a while but when Muslin Hall Garage cleans your car's injection system you may not believe the results. A simple 1 hour treatment can give you a smoother running car, deliver better fuel efficiency and give you peace of mind.
Our Injector Max Machine provides a simple and effective method of cleaning both petrol and diesel fuel systems without a costly removal of injectors from the vehicle.
Our latest customer, Mel from Netherthong, to use the treatment had this to say:
"My car is a Ford C-max 1.6 diesel is about 6 years old, with only 25,000 miles on the clock.
I've had the car for one year and although it has a low mileage, I was aware at the time of purchase that the car had spent a year or more standing idle with very little use. I thought the car was running well and was giving 55-6 mpg over a daily commute of 25 miles one-way, but I had some concern over the general clatter or busy sound of the engine, as it was not as quiet as my previous C-max with the same engine and many more miles.
Muslin Hall gave the diesel injectors a full clean treatment in order to solve the problem.
I am really pleased with the result, the engine runs quieter and much smoother and is more flexible & willing to pull away or ascend a slope at lower revs in the same gear. As an example I would say that 40 mph would be the minimum comfortable speed on the level in top gear but now the low 30s are possible. When full performance is applied the engine is more crisp and the barking tone is gone from the exhaust. The fuel consumption has moved up to 60 mpg."
For more details and to book in your car for a clean, call 01484 684 669 today